The Pakt One
Notify Me When Available
Meet the Pakt One. It packs like a suitcase, carries like a duffel, and travels like a pro. The One has been perfected through five+ years and hundreds of thousands of miles of global travel testing. 
35L capacity 
Zip around, dual-compartment design for the ultimate in organization
Easy access to everything you need while en route
Premium, durable materials and hardware
Carry-on approved
#ffffff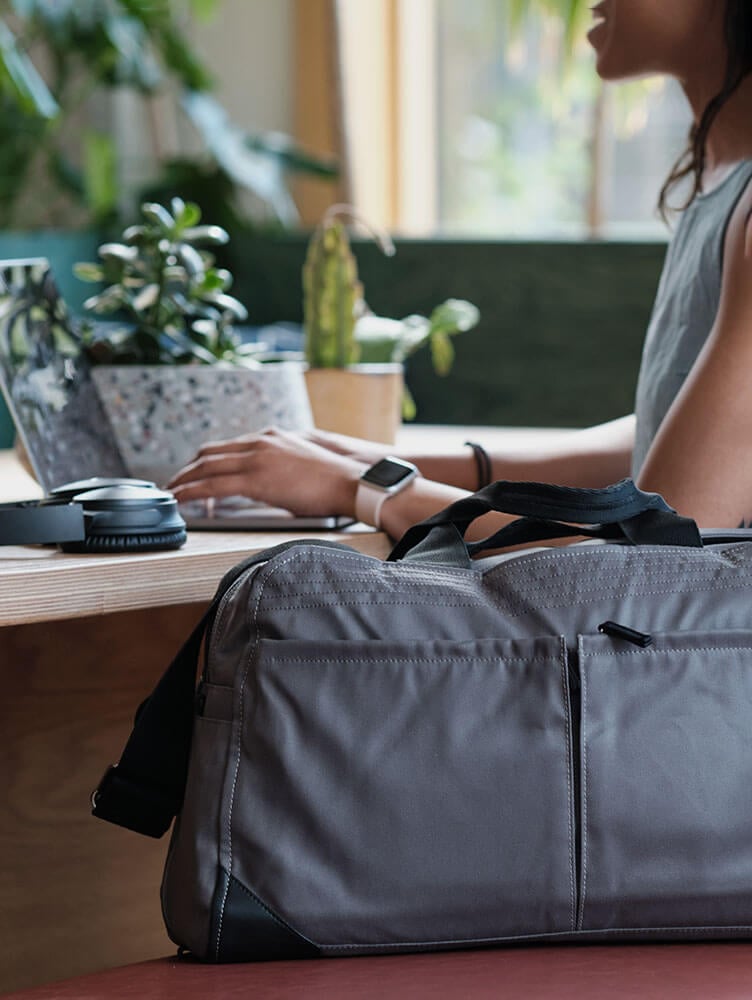 Packed with everything you need, and nothing you don't
"Pakt could become my go-to for travel for years to come."
The dual-compartment design allows you to easily see and access everything you packed at a glance
Premium padded shoulder strap with double adjustment buckles for maximum adjustability range
Protective corners and metal feet ensure years of use
After the original bag appeared in a popular Netflix documentary, the designer, Malcolm, received hundreds of requests to bring the bag back. In 2017, we introduced a new, improved version – The One. With the help of nearly 7,000 backers and $2M later, the bag was successfully crowdfunded, and a brand was born.
Pakt on the go
See Pakt in the wild via posts from our community of those who #keeptravelsimple.
Length 20" (50.8cm) x Width 10" (25.4cm) x Height 11" (27.9cm)
3.25 lbs
35 L capacity
Black / Black - 420D nylon dobby; water-resistant exterior zippers; durable black hardware; grey 150D polyester interior
Grey / Pewter - PU Coated polyester canvas exterior; durable pewter colored metal hardware; grey 150D polyester interior
Navy / Bronze - PU Coated polyester canvas exterior; durable brass colored metal hardware; gold cotton interior
Protective corners and metal feet
Premium YKK zippers on all main zippers
No external labels
You can wipe, spot clean, or on occasion machine wash it
Solid 2-3 day business trips
This is my go to bag for most business trips.
I love traveling with it, and have had it since the original launch.
Going away for a full week this coming week and am bummed I have to take the tumi roller as it's a pain to deal with compared to the pakt. Might end up trying to make the pakt work though
A dream come true
Wow, it's a dream come true! I've wanted to buy the Pakt One travel bag ever since I saw it in the Minimalist documentary movie. Including shipping and customs fees, $400 a bag is a lot of money where I come from and now that I've progressed in my career and can afford it, I finally got my hands on one. And let me tell you, I'm pretty impressed! The design is super sleek and minimalist, just the right size for a weekend getaway or a short business trip, and the material feels sturdy and high-quality. The fact that it's made from eco-friendly materials is also a huge plus. I particularly love the way it opens up like a suitcase, making it easy to pack and unpack, and there are plenty of pockets and compartments to keep all your stuff organized. The shoulder strap is really comfortable and adjustable too, which is great for those long walks through the airport. All in all, I would definitely recommend the Pakt One travel bag to anyone in the market for a new carry-on.
Go-to Travel Bag
If you tend to pack light, this is a perfect bag for week-ish long trips. I was surprised how much stuff I could fit. I love the clamshell division, it makes it easier to organise my things, plus the laptop pocket is super accessible. Sometimes for weekend trips, my partner and I will get one side each, so we can take one bag but have our stuff segregated.
The TSA pocket is forgettable, but it's nice to have.
My only con is that this can get heavy quickly. The strap crosses to even out the weight distribution, which is great, but some extra comfort in the shoulder strap would be welcome. If you're going across terminals, your shoulders will ache, though the handles are nice.
This is my "forever" bag!
WOW! I'm in love! My review is based on a "different view" from most of the other reviews given. I'm a 68 year old woman who travels internationally 1-2+ months each year. I don't pack like a 25 year old man, nor a business traveler. I don't pack 5 tee shirts, shorts, flip-flops, etc. I pack to travel and spend time in luxury hotels, fancy restaurants, perhaps going to the Opera, churches, and museums, and site-seeing. All that said... I can pack all that I need for at least a month. As for the features I love (and are different from my other bags)... It holds as much as my 20 inch wheeled bag, but without the weight of the wheels. Its size makes it perfect for catching a train or bus. Even with my terrible shoulders, I can easily lift it to fit in any overhead bin. The "main" entrance is a clam style that has a place for a 15 inch computer. While I don't travel with my computer, I use the "sleeve" for any paperwork/tickets I'm taking with me. I love that it has hidden zippered compartments inside each side for jewelry, my wet bag (I use to transport any wet laundry that didn't dry the night before), a couple of scarves, and gloves. There are also small "netted" pouches which I use for extra glasses, phone charger, cords, etc. I love the outside pocket that has a "TSA" zippered pouch. I can easily put in my watch, bracelets, passport, and phone while getting through the security process. It is wonderful to grab my bag and go (instead of trying to gab my stuff out of the dog bowls and put things on while in the crowd of people). I do NOT find it hard to carry through airports, and don't miss the wheels at all. When I have it fully packed, it weighs in at 12-13 pounds (OK... I pack well). I appreciate that it doesn't have a logo and I love the grey color. It is made of quality material and the zippers are HEAVY DUTY and easy to move. I am happy that it isn't as "long" as many duffle bags that bump into things and are hard to handle down narrow plane isles. I am thrilled to have found this bag and will use it for years to come. For me, it is worth every penny, and more.
We ship to the US, Canada, Australia, UK and more. Check out the full list of countries that we ship to here.
No, it does not- you would have to use a luggage strap or something similar to connect it to a rolling suitcase.
The Pakt One is not completely waterproof, but the materials are water-resistant across all colorways, and the Black Pakt One has water-resistant YKK zippers.
All colorways of the Pakt One are built to last, but the Black bag has a more technical/structured feel and is the only colorway with water resistant zippers.
We have used the Pakt One as a personal item on Spirit (and other airlines that charge for carry-ons) when it's packed lightly. A fully stuffed Pakt One may not fit within their maximum personal item size limit.
We're glad you asked! The short version: we source quality materials and work with only top notch manufacturing partners to create a product that is going to have a long life. Check out this blog post where we go a bit more in depth.