The Pakt Coffee Kit
Notify Me When Available
Tired of terrible coffee while on the go? Look no further. The Pakt Coffee Kit is everything you need to make barista-quality coffee in one sleek, portable package. Use anywhere you have access to water and electricity.
Use at home, desk-side, at an Airbnb, or in a hotel
Compact, durable, airline carry-on friendly
High-end, safe materials


BPA free
#ffffff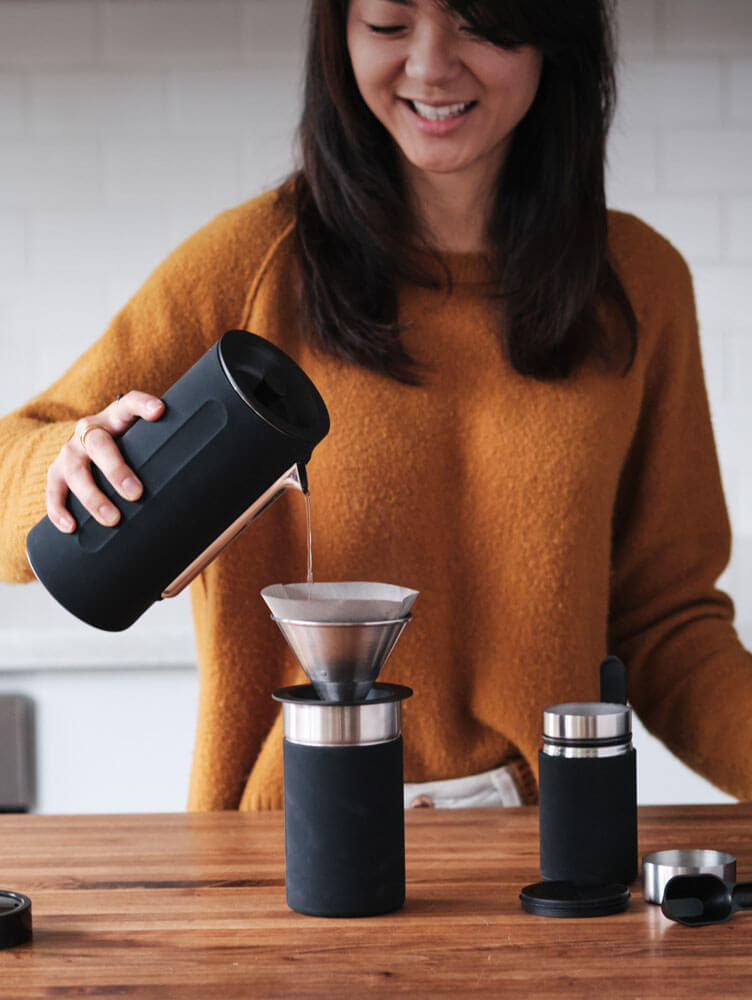 "A portable pour over coffee maker so there are no caffeine sacrifices"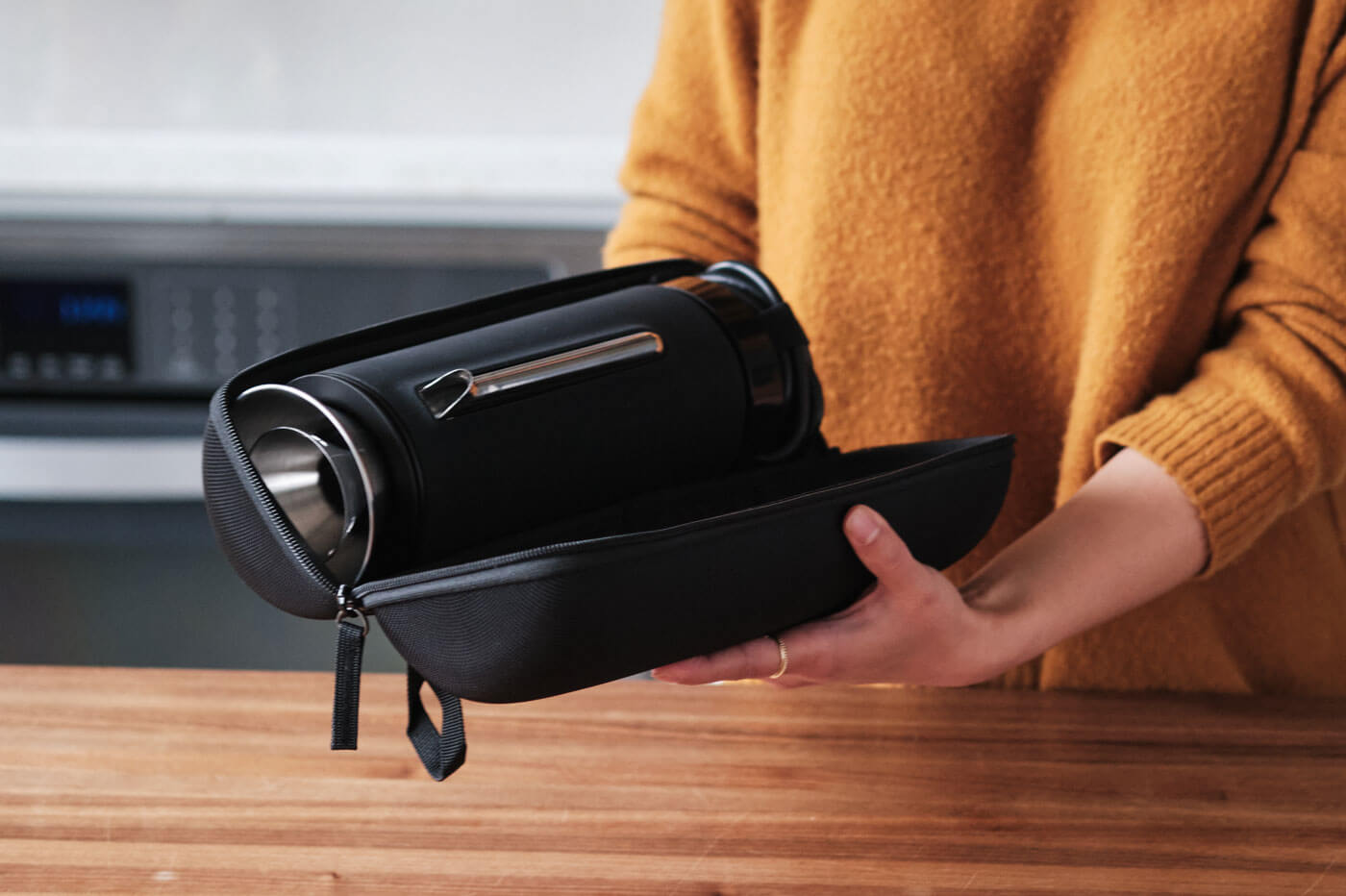 Most other coffee kits have a high probability of breaking due to the fragility of the components. Our kit nests together, each component fits inside the next larger one, housed within the stainless steel kettle with protective silicone sleeves, keeping every piece secure and silent. No rattling or broken parts.
There are many coffee-making kits designed for adventure travel, but the gas canisters typically used for making coffee while camping can't fly at all. We designed the Pakt Coffee Kit to be airline friendly, so it can easily go wherever you go. Check it or carry it on – the choice is yours.
Show us how you brew, @alexander.mills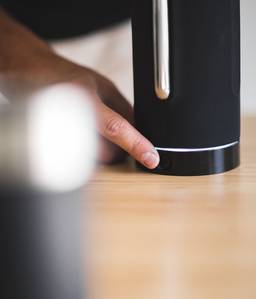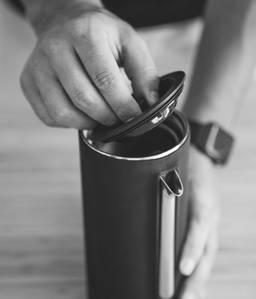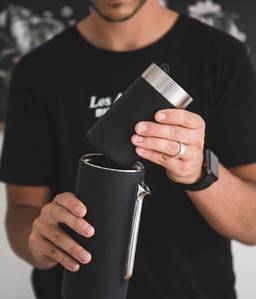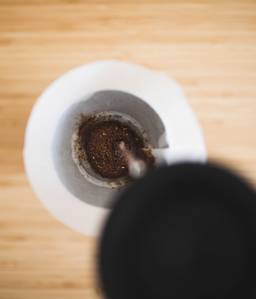 Pakt on the go
See Pakt in the wild via posts from our community of those who #keeptravelsimple.
3.76 lbs/ 60.15 oz/ 1.7 kg
12" x 5"
High-grade stainless steel construction
High end, safe materials
BPA free
Water never touches plastic when brewing
The components of the kit are not dishwasher safe; Hand-wash only
Allow to cool before cleaning
Do not submerge kettle in water
Full list of safety information and care instructions available here
Well designed. Easy learning curve. Best for solo travel.
After eyeing the Pakt Coffee Kit since the crowdfunding days, I finally bought one, ahead of a a travel-heavy period over the next few months. The kit arrived quickly, and I made the morning coffee using it at home before my first trip with it (which is tomorrow). The directions are clear and the product works as advertised. The components are as well-designed as they appear, and the entire unit is of high quality construction.
A few things to be aware of: 1. Watch the Pakt video before opening the package so that you can place your hand on a few loose items that will tumble out of the cylindrical case upon opening. 2. There's no diagram for how to put the whole thing back together for travel and though it's pretty self-explanatory, I couldn't figure out where to place the scoop at first (the scoop lies in the long channel into which the stainless steel pouring spout rests). 3. This item is best for solo travel, as it seems. If you make a full cup, it's not enough for two, so you have to make another anyway; might as well make coffee for one person first (though there's only one cup in the kit, so plan to have a second cup available), and then make a second cup for the other person. There doesn't seem to be a wait time necessary after boiling water, or at least I did not see a wait time printed in the instructions, so you can turn around pretty quickly and boil more water soon after having already done so.
This absolutely is fancy. I look forward to having it in the hotels where I'll be staying because in-room coffee is undrinkable or unavailable, and the coffee downstairs in the lobby if there is any, is at best only marginally better. I hate to have to dress and get out before I've had my coffee. Feels uncivilized, somehow.
Highly recommend this product!
In LOVE
Love this product I use it for every travel, i gifted this 3 times and people LOVE IT
Love it!
As a frequent traveler who loves coffee this kit has been a big blessing! Bought 2 kits already!
We ship to the US, Canada, Australia, UK and more. Check out the full list of countries that we ship to here.
Visit our owner's manual page here.
Yes. Most other kettles have a switch to toggle between different voltages, but we included circuitry to automatically accommodate both 110 and 220 volts.
No, an adaptor for the region(s) you'll travel to would have to be purchased separately. The Kit is wired with a 3-prong North American plug (NEMA 5-15p) so you will need an adapter that accepts this format. Make sure that any adapter you choose is rated to accommodate at least 500W. We recommend one like the IG series from Ceptic, which fit perfectly in the Pakt Coffee Kit.
The Kit does not include a car adaptor, but any DC to AC power inverter rated for at least 500 watts will allow you to power it from your car's electrical system (but please don't brew and drive).
The kettle is designed to shut off when it reaches 205 degrees F (96.1 C) -- the high end of the range most consider the perfect temperature for pour over coffee. Note: Because water boils at a lower temperature at high elevation, at higher elevations, your water may never reach the 205 degree shutoff point. As a fail safe, we added a circuit with a timer that will shut the kettle off automatically after five minutes. We can't change Mother Nature's rules, but unless you get *really* high up there (above 9,000 ft/2,743 m or so), your water will still get hot enough for a good pour over.
No, your Pakt Coffee Kit includes a mesh metal reusable filter. Some coffee drinkers prefer paper filters, and The Kit is compatible with Hario V60 size 01 filters.