The Pakt Coffee Kit
Tired of terrible coffee while on the go? Look no further. The Pakt Coffee Kit is everything you need to make barista-quality coffee in one sleek, portable package. Use anywhere you have access to water and electricity.
Use at home, desk-side, at an Airbnb, or in a hotel
Compact, durable, airline carry-on friendly
High-end, safe materials


BPA free
#ffffff
"A portable pour over coffee maker so there are no caffeine sacrifices"
Most other coffee kits have a high probability of breaking due to the fragility of the components. Our kit nests together, each component fits inside the next larger one, housed within the stainless steel kettle with protective silicone sleeves, keeping every piece secure and silent. No rattling or broken parts.
There are many coffee-making kits designed for adventure travel, but the gas canisters typically used for making coffee while camping can't fly at all. We designed the Pakt Coffee Kit to be airline friendly, so it can easily go wherever you go. Check it or carry it on – the choice is yours.
Show us how you brew, @alexander.mills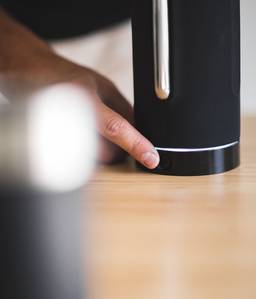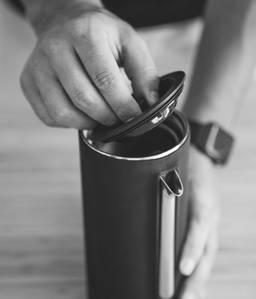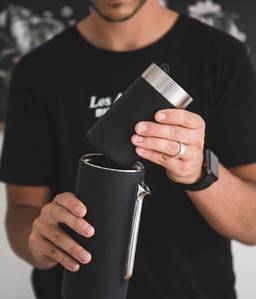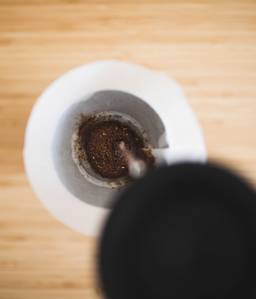 Pakt on the go
See Pakt in the wild via posts from our community of those who #keeptravelsimple.
3.76 lbs/ 60.15 oz/ 1.7 kg
12" x 5"
High-grade stainless steel construction
High end, safe materials
BPA free
Water never touches plastic when brewing
The components of the kit are not dishwasher safe; Hand-wash only
Allow to cool before cleaning
Do not submerge kettle in water
Full list of safety information and care instructions available here
Must Have for Pilots!
Absolutely love this thing! Coffee is excellent and it packs up great in my roller bag. I always carried a French press and fumbled with the hotel equipment that was about as smooth as a ground stop. This is a no brainer for us coffee snobs who won't touch the airplane coffee. Only complaint is the price but for what we pay for a terminal coffee it isn't that bad and there's never a line. Grounds container is enough for a 3 day, I bring extra when I screw up my bid and get rewarded with longer trips.
Best Purchase Ever! Exceeds expectations!!
I've been using it for a week and am in love! It's very compact, easy and quick to use. The metallic filter is surprisingly nice. One of the greatest coffee I've seen. Planning to take it to work, and not only for traveling.
Un bijou de technologie !
This is the best gift I received for my birthday! I enjoy every cup of coffee made with it, it is absolutely fabulous. My only regret is not being able to fit a grinder inside the mug (other than the Comandante that I don't have) instead of the small container. But everything is sturdy, well-made and a real pleasure to use. Thanks to all the Pakt team for your professionalism and kindness. We're gonna take you with us everywhere! This kit is gonna travel through France then the US with both an American and a French (myself) during a book tour. So: merci du fond du cœur, and long live Pakt!
Too heavy to travel and machine came without filter
Visit our owner's manual page here.
Yes. Most other kettles have a switch to toggle between different voltages, but we included circuitry to automatically accommodate both 110 and 220 volts.
No, an adaptor for the region(s) you'll travel to would have to be purchased separately. The Kit is wired with a 3-prong North American plug (NEMA 5-15p) so you will need an adapter that accepts this format. Make sure that any adapter you choose is rated to accommodate at least 500W. We recommend one like the IG series from Ceptic, which fit perfectly in the Pakt Coffee Kit.
The Kit does not include a car adaptor, but any DC to AC power inverter rated for at least 500 watts will allow you to power it from your car's electrical system (but please don't brew and drive).
The kettle is designed to shut off when it reaches 205 degrees F (96.1 C) -- the high end of the range most consider the perfect temperature for pour over coffee. Note: Because water boils at a lower temperature at high elevation, at higher elevations, your water may never reach the 205 degree shutoff point. As a fail safe, we added a circuit with a timer that will shut the kettle off automatically after five minutes. We can't change Mother Nature's rules, but unless you get *really* high up there (above 9,000 ft/2,743 m or so), your water will still get hot enough for a good pour over.
No, your Pakt Coffee Kit includes a mesh metal reusable filter. Some coffee drinkers prefer paper filters, and The Kit is compatible with Hario V60 size 01 filters.