The Anywhere 25L Duffel
Notify Me When Available
The Anywhere 25L Duffel is packed with features. This small but mighty bag makes an incredible family organizer, compact overnight bag, personal item for flights, or your go-to for everyday use. ⁠⁠
Multiple exterior pockets for easy access to tech, chargers, travel docs, and snacks
Interior laptop compartment fits up to 16" devices, 12" pocket for e-readers or iPad
Luggage strap to secure on the handles of your rolling luggage
Durable water-resistant materials made from recycled single-use plastic
#ffffff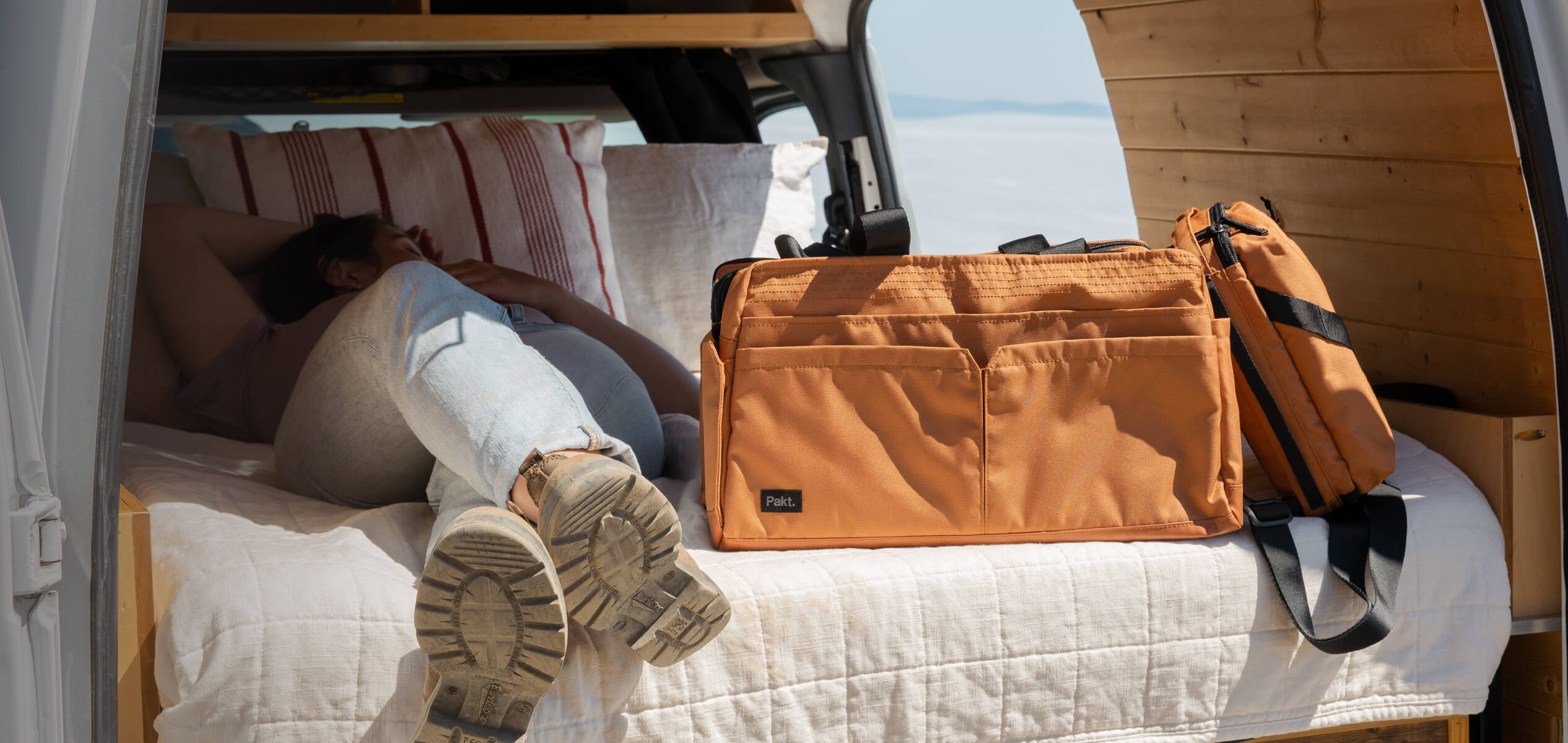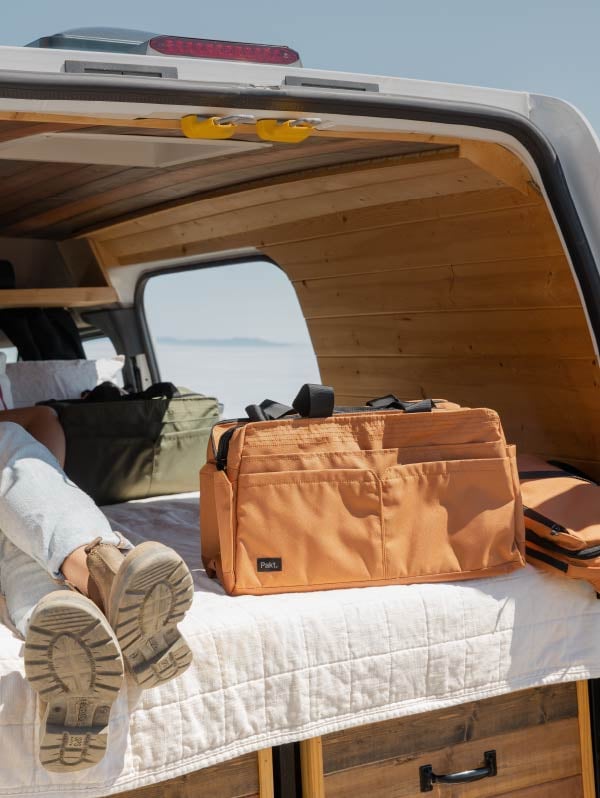 Travel like a pro, live like a local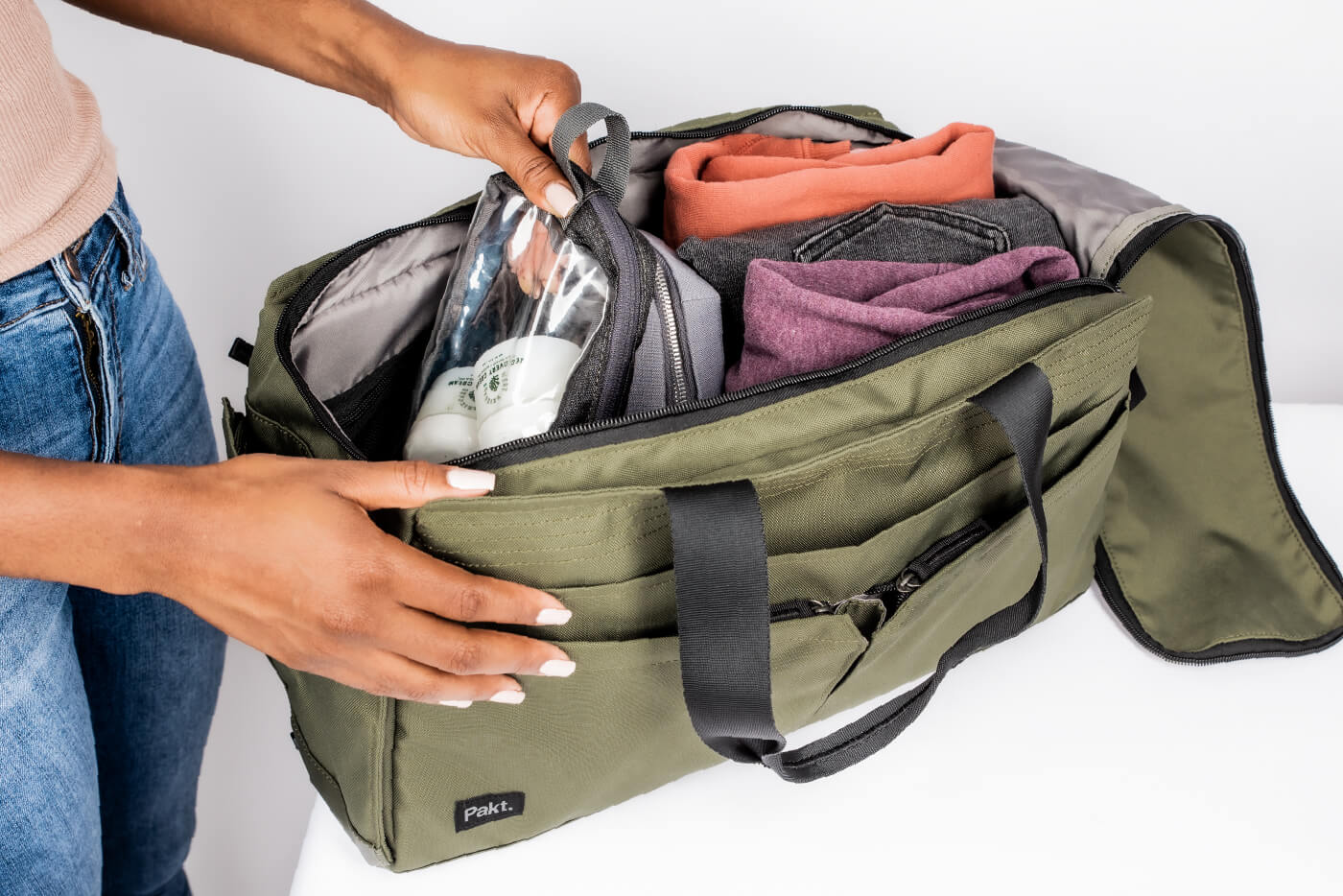 Flying solo? Pack all of your flight essentials, and secure the duffel onto your rolling luggage. You'll have access to all of your tech, snacks, and reading material while in-flight, with room to spare for a change of clothes and toiletries.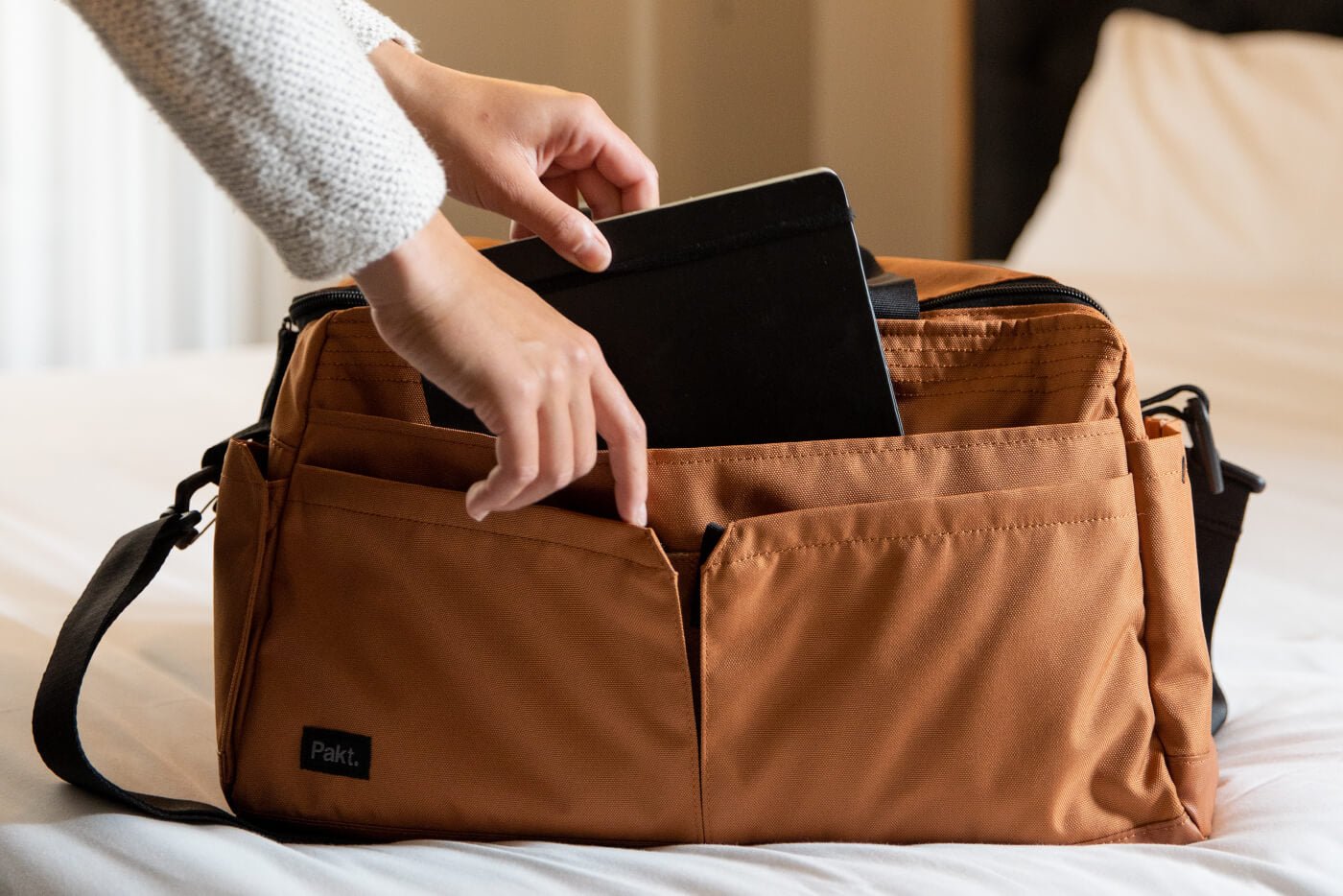 The layout and features are designed to perfectly hold all the things your group will want access to while on the road within reach. This is the perfect home-base to keep everyone's snacks, gadgets, and passports in for easy access and happy seatmates.
Front / back oversized media pockets
Seven exterior pockets
Two oversized exterior water bottle pockets with a waterproof lining
How @tk_north travels with the Anywhere Collection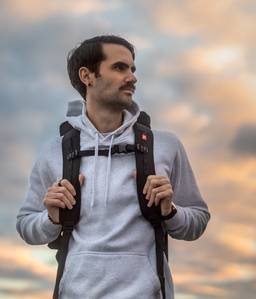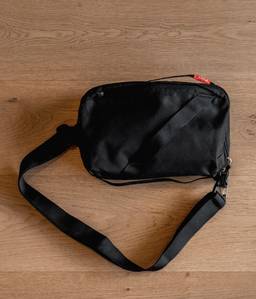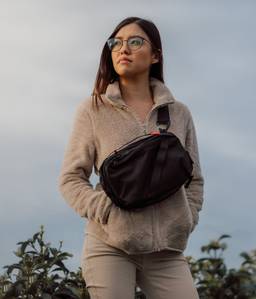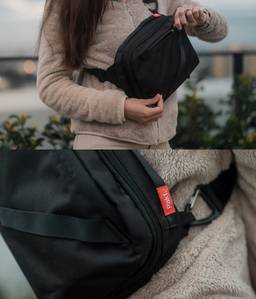 Pakt on the go
See Pakt in the wild via posts from our community of those who #keeptravelsimple.
43 x 20 x 25 cm / 17 x 8 x 10 in
1.8 lbs
25 L capacity
900D rPET (recycled polyethylene terephthalate) exterior in Green, Black, or Adobe
150D grey polyester interior
Durable water resistant coating
Heavy duty TPU water resistant bottom panel
Tough Duraflex hardware and YKK zippers
Heavy duty bar-tacks reinforce all handles and stress points
You can wipe, spot clean, or on occasion machine wash it
Bring back the holdall!
The biggest flaw of this bag, is its name. Duffel bags make me think of entirely structureless and ultimately compressible bags, that are good for carrying lots of things but without any compartmentalization and organization. Backpacks these days dominate as the choice for carrying items for work or everyday life, and for good reasons. But, I was looking for something different.
I wanted a bag that had one orientation. To get at all the storage compartments of your typical backpack, you have to rotate it around and often need to lay the bag flat in a different orientation than it's carried. Most backpacks are also their longest dimension in height, so they are often deep and narrow, forcing you to stack lots of items on top of each other, and make accessing them on the fly difficult.
Pakt had the exact thing I was looking for to avoid those downsides, something like a holdall. A spacious bag that is carried in the same orientation its meant to be lain, with a longer horizontal dimension so I can place more things beside each other rather than on top of each other, giving me better access. And, one of the few bags of this kind I saw with a dedicated and quality laptop and tablet slot. It has two large bottle compartments on the outside with drainage just in case of spills. Yes, I'm the kind of person that carries two one liter bottles sometimes, and this does that.
Oh, and there's no velcro. I really don't like velcro closures.
There's no point in going into detail about the quality of the bag's construction; it's great. If there's any criticism I could offer: The luggage pass-through on mine is on the opposite wall of where the laptop goes. The laptop is likely to be the heaviest item I'll carry, so rather than have the bag favor that side with more structure it seems to try and split the balance and I'm not sure if that's a good thing. Also, some bags at this price point are providing more water resistant zippers, but I knew that wasn't going to be an issue for me with this bag. I wasn't looking for something that can survive a rain storm, just a daily commute.
Glad this was my first Pakt bag, it won't be my last.
Best bag for a Pilot!
After purchasing this bag for overnight trips I quickly realized there was a second and excellent use, a Flight bag!! This bag holds all of my GoPro gear, headset, iPad, and then some. I've got room for absolutely everything!!!! Amazing and durable bag!!!
So glad I bought this
Of all the Anywhere bags I wasn't sure if I needed this. Boy was I wrong! At some point I will be using this as an overnight bag, but during my summer of housesitting it was my 'everything else bag'. The gear hauler held all my bedding (plus more!), the 50L held my entire summer wardrobe, and the 25L held everything else I might need - laptop, kindle, notebook, library books (on end on one one side of the divider), all the various leads and plugs for the electrical stuff, and a myriad of other miscellaneous stuff that in previous times would be randomly stuffed in somewhere so I'd waste loads of time trying to find the item when I needed it. If it wasn't in this bag I hadn't packed it! It also meant packing was easier as all those things had a proper place to go. The U-shaped zip meant that I could arrive in a new house, place it on a chair/table, unzip, and hey presto I had easy access to everything I needed. I agree with others that it would be useful to have a longer/wider and padded handle grip if it was used as a travel bag (train/plane etc), but for going in and out of the car the current one is sufficient. Now that I've used it I can see me using it in many different circumstances.
Great duffle if used as intended
Hello, fellow Part or future Part owner,
Quicky:
Great duffle bag that is versatile in most everyday situations if carried like intended. However, it is let down by its strap with the lack of padding.
At the end of the day, do you like the duffle-style carry? If not, this bag will not convert you. It is not a hybrid bag either, and you need to commit to the duffle carry mode. But if this style suits you and you are ready to use it as it is intended, you are in for a treat! A great bag well thought out with excellent material that is truly a tool for your life and will not get in your way.
Pros:
Duffle style: elegant and practical
Well thought out
Materials
Versatile size
Pakt ethos
Cons:
Strap no padding
Not proper A4 carry inside the pack (unfolded)
No backpack carry
A certain "carry way": It is also a duffle that "asks you to carry it the way it wants" (if this makes any sense) and thus maybe not be suited for everybody.
Situations tested:
Business: It is excellent and passes without any hiccups (style-wise). I went to meetings with it, and some gave me some compliments. For the rest, nothing to signal. However, the organisation for A4 papers and binders is quite lacking, making it not entirely suitable as a briefcase replacement.
Everyday life: grocery shopping or to the gym, this bag is excellent because you can put your EDC in the different pockets and then have someplace to add groceries or cloth, etc. It works well.
Travel: It excels at this point as a two-bag system or even one-bag travel (yes, it is possible, it is not too small!). Every pocket is very well thought out, and never have I had to weigh the bag, or someone calls out on me that it was too big or not (I went on some small aeroplanes!).
Adventure: This is not the bag's forte. I would not recommend it for hiking or other similar situations. If you are committed to the duffle carry style, you can try it, and I would say that the materials are excellent. I have tried it and was multiple times under a downpour and had no issue at all (the laptop was in the bag, and everything was dry). Nevertheless, a backpack is just simply the best option here.
Long-form review:
I am a long-time business traveller, and I love to pack minimally. I am always looking for duffles to buy to improve my carry-on style and what I can bring with me. I was very excited when Pakt announced this duffle as the Pakt One was too big for my liking. Here is my review:
The goods:
As a duffle style, it is elegant. It can easily pass in meetings, even high-end ones where all your colleagues have some leather briefcase MontBlanc-style (tried it, no issue). You can truly blend in with the business crowd.
It is very well thought out, and you can feel that there were some clever minds behind each pocket and each panel. There is a purpose behind the way you need to carry the duffle. It is very clever in its design.
The materials used are excellent. I have no complaints about stitching or scratching. I was in some downpour, and everything was dry.
The size is well thought out and strikes a great balance between portability and usefulness. For all of these points, you can carry this bag in multiple situations, whether going to the gym (adding pair of shoes and extra clothes and towels) or grocery shopping (of course, you don't have a family of 5.), weekend trips or long-form trips. It is really a versatile duffle that can pass in multiple situations.
Adding to this, the Pakt team ethos is great, and what the company is doing is commendable, making it a pleasure to purchase from them. The customer support is on point, the shipping extra fast, the packaging wonderful and all eco-friendly! Bravo!
The bad:
With all the different details, intricate panels and organisation detail and whatnot, this bag "ask of you to be carried in a certain way", to put some stuff in certain pockets, for sure. Thus, it may not suit every carry style, even within the duffle carry mode. For example, in some business meetings, I need to bring some A4 binders. They are too big to fit in the duffle; zip closed. They pass perfectly in the "magazines pocket" on the sides and do the job fine. But if you habitually put your A4 documents unfolded inside the bag, here you cannot! This is just one example of how this bag "wants you to carry as intended".
Not really a "bad" point, but it is worth noting that this duffle is firmly a duffle and no hybrid mode is possible to carry it in backpack mode. I have tried it with the straps, but it was awkward and uncomfortable when the pack was not very full. When it was packed full, forget about it. If you know duffle carry mode is not for you, this pack will not change your mind.
The ugly:
This is the major complaint; why is there no padding on the strap?! A duffle is carried with the handles (here, they are excellent and just padded enough with the gel, very nicely done!) or with the long strap on the shoulders. It ...
It can fit up to 16" devices and then there is an extra 12.5" pocket for an e-reader or iPad
Yes, the Anywhere 25L Duffel is carry-on friendly and makes an excellent personal item
The Pakt 25L Duffel and 50L Duffel/Backpack hybrid are both water resistant with a combination of DWR and TPU coating.